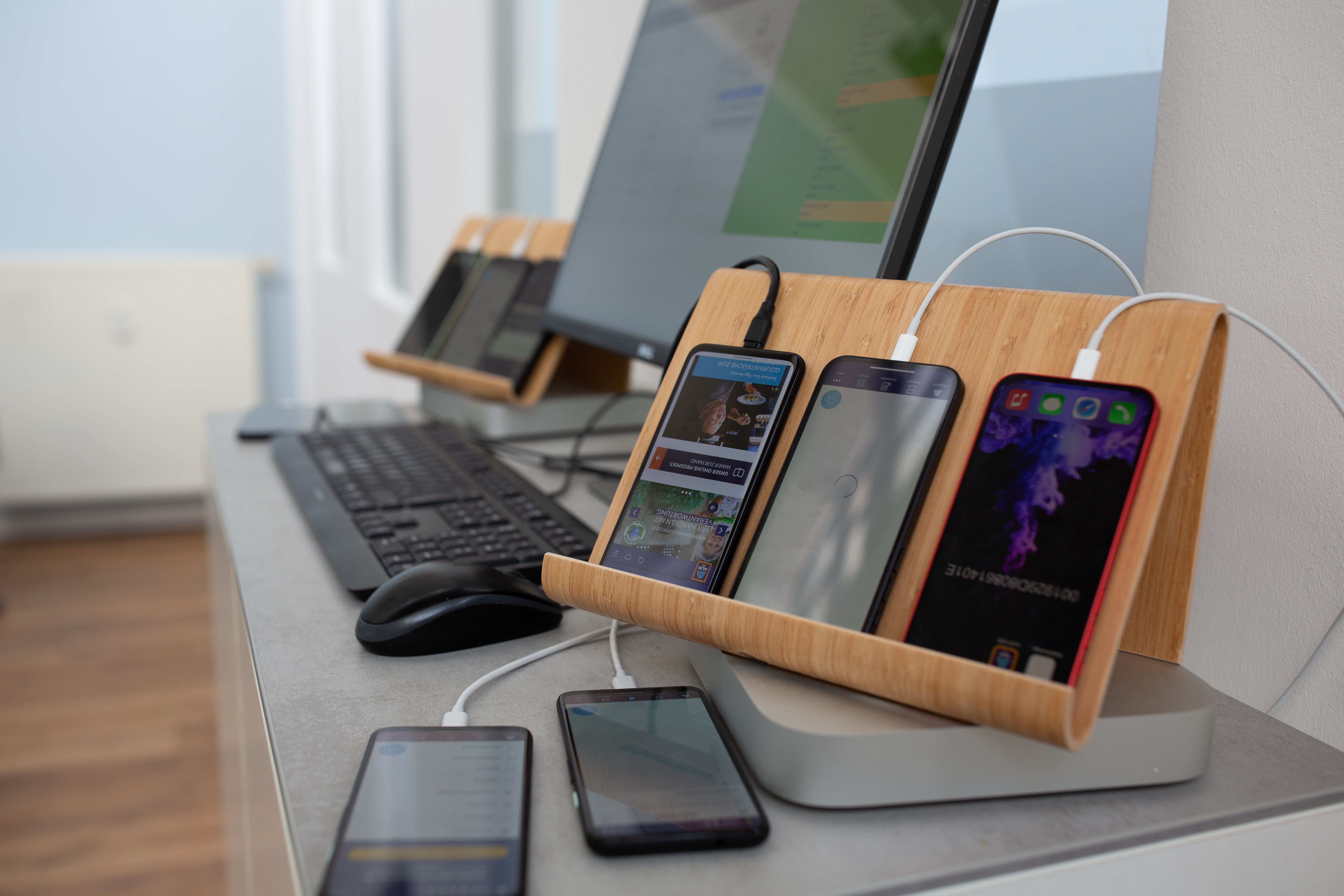 Professional web testing
Expert testing of up to 1,000 device and browser combinations for outstanding responsive web development.
External web testing supports you to achieve the best possible quality
We offer quality assurance for your websites at the highest level. Our ISTQB® certified test managers lead a team of continuously trained testers. Our training system is complemented by experience from the support of numerous market-leading websites. With our help you can avoid operational blindness and receive valuable feedback on functionality and user experience. We test your responsive website on a market-driven setup of smartphones, tablets and desktop. With Appmatics you can quickly and cost-effectively increase the quality of your digital products. We advise you on a test setup that matches your requirements, suitable for each project phase.
... external web testing stands for lower costs and higher quality.
The Appmatics advantage
Licensed in-house teams
Individual test planning
Optimal integration
Highest individuality
Audited in-house teams

Trained in-house testers test your products on real devices.

Appmatics testing is carried out on a large number of real, non-emulated devices. In combination with an extensive technology stack and ongoing in-house training, our testers work under ideal conditions to meet high quality standards. We provide you with important feedback through the clearly structured and rapid execution of a wide range of test cases and ensure optimal user acceptance at launch and/or after updates.

Individual test planning

Risk management by covering all user stories with the help of structured testing.

Test planning serves as the basis for joint work: our experts work with you to determine the technical and content-related requirements for the project. Product documentation and specifications are decisive for the test plan and the exact test settings, which correspond exactly to your individual requirements. After successful test planning and joint creation of a schedule, our testers test your product in detail using various user stories.



Optimal integration

Our testing is seamlessly integrated into your agile development environment.

Your personal testing team integrates seamlessly into your development team via the communication channels of your choice. As soon as new features or other changes are due, the corresponding information automatically enters the Appmatics testing pipeline. Our work is always in line with your development cycle and adapts to Scrum, Kanban and other development methods.

We also coordinate with you on bug tracking, thus avoiding unnecessary duplication when creating tickets. Our test experts record all work steps in your documentation system and always follow the specifications of the requirements specification or the defined user stories.

Highest individuality

Adaptability in all perspectives.

You can use our expert web testing in different phases of development. We create reliable testing solutions that meet your requirements and budget. To do this, we work in an environment that we design according to your wishes. This applies to browsers on smartphones, tablets, PCs and Macs - choose the right device setup for your target group.
Your individual solution - without compromise.
Together we will find out which testing solution is right for you. Our experts can start web testing at different stages of development. The testing environment can be designed according to your wishes and requirements. This applies to browsers on smartphones, tablets, PCs and Macs - we will find the right device setup for your target group.
Your personal benefits at a glance
Tailored quality assurance

Short response times and qualified test results ensure a successful development process in the long term.

Structured testing & exploratory testing

Individual test plans ensure effective and accurate testing.

Qualified bug reports save time and nerves

Tickets are transferred directly in your ticket system so that your developers can immediately track and reproduce all bugs.
Do we have your interest?
We are happy to support you
Improve now the quality and usability of your website with our professional web testing. Contact us for a free offer! Together we will find a customized solution for your project.