Agile Testing
We combine quality and speed.
For your agile software development, an optimized test strategy is necessary to enable a high quality of your products. By combining manual and automated testing, we achieve maximum flexibility with high test coverage. We bring these two worlds together and deliver the results directly to your development department - without any further effort or additional work on your side. Our test analysts fully support your teams, for high development speed with increasing quality level.
Maximum quality with minimum effort for you and your teams!
Why
agile testing

is the right solution for you
Prioritization of quality assurance


Agile software development leads to high demands on quality assurance and test teams, where we can support you with our expertise.

Clear responsibility


Our agile testers provide clarity and accountability in your product development.

High test coverage


The rising speed of development often leads to low test coverage, which can be compensated with the help of test automation.
Your personal advantages at a glance
High test coverage
Clear responsibilities & communication
Integration into the CI/CD pipeline
Always up-to-date test cases
No additional project management
Our agile testing approach

For us, manual testing and automated testing goes hand in hand, allowing us to combine the best of both worlds. We have been able to continuously improve our strategy in numerous projects.

In our Iterative Testing approach, the following tasks are performed in parallel with your software development:
Test case creation
Acceptance of new features through manual testing
Explorative testing
Test automation of the relevant testates
Creation and maintenance of the automation infrastructure
Reporting of test results
Do we have your interest?
We are happy to support you. Also agile...
You want immediate results and don't want to wait? Then rely on our experience. Contact us now and let our experts support you individually.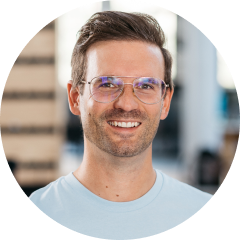 Mit dem Absenden des Formulars erklärst Du Dich mit unserer
Datenschutzrichtlinie
einverstanden, einschließlich der Verwendung von Cookies.